Adventure forth, venture far: The top 8 questions about participating in sustainable venturing challenges answered
In the decade of transformation, businesses take a leading role in the transition to a green economy. To overcome the problems they face in their quest to drive sustainable innovation, they often keep a look-out for committed students who want to be their partners and help turn their challenges into opportunities.
If you want to get involved in innovating business products, services and processes towards sustainability in collaboration with business partners, then a sustainable venturing challenge might be just right for you. To help you get started, we've provided some answers to common questions below. Dive in and kickstart your challenge journey.
1. What exactly do challenges in sustainable venturing entail?
Sustainable venturing challenges come in different formats. They may be organised as competitions, hackathons, workshops or even full-semester courses, to name a few. What unites them is their focus on student-business collaboration to develop innovative, sustainable solutions to companies' real-world problems. This means that you will go much further than, for instance, listening to a guest lecture of a company presenting their business problem. Instead, companies are asking you to join the table and come up with new, exciting solutions to their challenges in a collaborative effort. This means you will work directly with the respective company (or companies) and engage with company representatives at eye-level.
2. What is challenge-based learning?
Challenge-based learning is an innovative approach to learning that focuses on students and their needs. According to the Challenge-based Learning Framework, students go through three interrelated phases as they work on real-life challenges provided by companies. In the "Engage" phase, the students get to know the problem the company faces and ask questions to study and look at the problem from various perspectives. This exploration phase is important for students as it helps them to understand and formulate the concrete challenge and move on towards the next phase, the "Investigate" phase. Here, students engage in in-depth research and collect information that is needed to build the foundation for developing ideas and solutions, guided by academic staff and company representatives who provide supportive materials and activities. In the final "Act" phase, students build on their investigations into the problem to come up with new ideas and concrete solutions which they present to the business partner and academic staff to receive feedback and determine potential for actual implementation.
3. What types of sustainable venturing challenges are there?
During a challenge that focuses on sustainable venturing, you will be involved in creating new business solutions within a company, such as innovating products, services and processes or developing new ventures such as start-ups or spin-offs. Challenges can typically be differentiated based on the following dimensions:
Content focus
While some challenges focus more on open ideation, others will put business model development at their centre. Others again, focus on a specific sustainability theme that determines the overall direction of the challenge, for example circular economy. Which focus to opt for largely depends on your interests and learning ambitions.
Duration
The duration of a challenge activity depends on the nature of the problem being addressed. Short-term challenges usually span one to three days. While they incorporate a number of relevant topics, these are worked on in a shorter time frame. Long-term challenges span several weeks to months. In comparison to short-term challenges, they give you more time to familiarise yourself with the challenge and to dig deeper into the subject matter at hand. You will also have more opportunities to get to know and work with the business partner. If you prefer to take a deep dive in just under a few hours or see how challenges work, short-term challenges can be a good option to begin with.
Curricular integration
Challenges are either integrated into the curriculum or offered as a co-/extra-curricular activity. Extra-curricular challenge activities that take place outside of your regular curriculum will mean an additional time investment, but can be worthwhile to help you advance in your professional and personal development, grow your network and explore new interests and topics. It may also be a great addition to your CV, showing future employers that you take initiative to search for further learning opportunities which you are able to balance with your academic life.
Type of collaboration
While some challenge activities focus fully on face-to-face collaboration, others might make use of hybrid formats and blend face-to-face interaction with virtual interaction. While in-person team collaboration is fun and effective, hybrid or fully virtual formats can be a great opportunity to connect to and work with companies and academic staff from other regions or countries you might not get the chance to work with otherwise.
Study level
While many challenges on offer are open to both undergraduate and postgraduate students, some may require you to have reached postgraduate level. Check the challenge requirements to see which study level or how many credit points are required for participation.
Student diversity
Challenge-based formats value participation of mixed student teams which are made up of students from different disciplines, universities or countries. While some challenges seek application by individual students who are then matched into teams by the challenge organisers, others might ask you to enter the challenge in a team. To connect with future teammates, you can reach out to fellow students and study partners, find like-minded student communities on social media platforms or other specialised platforms or contact relevant student associations and university departments.
4. What are the different stages of the challenge process?
Student-business challenges in sustainable venturing will typically feature the stages shown below. During kick-off, business partners present their problem to you and supply all needed information and supplementary material for you to get started. Academic staff will provide you with all relevant information as to the planned challenge procedure, important dates and if applicable, requirements for examination. As you dive into generating ideas and developing your solution to the problem, both the business partner and academic staff will be available to co-reflect different perspectives and co-develop new knowledge and ideas with you. Towards the end, you will be asked to pitch your solution to the jury as a team. Both the business partner and academic staff will use pre-defined assessment criteria to evaluate your solution and to give you feedback. Should the academic staff have an impact monitoring system in place to evaluate the outcomes of the challenge, you might be asked to participate in short surveys after or both before and after the challenge.

5. What are the roles of students, companies and academic staff during a challenge?
Students
As a participating student, you will take the role of challenge solver. This involves applying your knowledge and any expertise and skills you might acquire during the challenge to co-develop innovative ideas and solutions in a mixed student team. You will do so in constant exchange with academic staff and company representatives who provide regular feedback and opportunities for open discussion. Towards the end of the challenge, you are expected to pitch your solution to company management and academic staff who will assess the quality of your solution. You might be asked to participate in surveys and provide feedback that help the challenge organisers to evaluate and further improve the challenge activity.
Companies
Company representatives will make sure to present to you the business problem their company is facing in an understandable way. They will provide you with input and all relevant information you need to get started on investigating and developing a feasible solution. During the challenge process, company staff act as coaches to provide you with expert knowledge, support and insights along the way. They will offer regular sessions in which you can openly exchange your ideas and thoughts and co-develop ideas. During the final pitch event, they will provide you with valuable feedback on your proposed solution.
Academic staff

Academic staff will provide you with new knowledge relevant to solving the challenge, such as important methods, approaches and tools in sustainable entrepreneurship and innovation. They are there to support you and provide direction throughout each of the challenge stages, whether during research, ideation or developing your solution. They can also support you in the communication process with the company and you can always reach out to them should any questions arise.
6. What is required of students who are interested in taking part in a sustainable venturing challenge?
First and foremost, you should bring an active interest in sustainable entrepreneurship and in collaborating with businesses on the ground. Ideally, you are open to learning, working in teams with diverse backgrounds and able to take on responsibility. You should also check the specific requirements of the challenge you're interested in such as language, study level and evaluation requirements and check your time availability for participation. Finally, a portion of curiosity and willingness to discover new perspectives can't hurt either.
7. How do I lobby my university to take part in sustainable venturing challenges or accept ECTS from other university challenges?
If your university does not offer challenge-based activities in sustainable venturing yet, you can reach out to inquire about options to accept ECTS for other university challenges or, going a step further, to integrate challenges into the curriculum. Check who would be most suitable to approach – might this be your lecturer or department dean? Or maybe your university's entrepreneurship hub or sustainability initiative? As you enter into discussion, there are several advantages you can bring forward. Universities are key players when it comes to driving the sustainability transformation. Entrepreneurial university-business collaboration increases the university's field of action and presents a good opportunity to use and apply its wealth of knowledge and resources for creating positive impact, all while strengthening its innovative profile. Besides, challenge-based learning is an innovative learning approach suitable to complement traditional teaching and learning practices and provides students with real-world experiences that better prepare them for work and life – another advantage to sharpen the university's standing and attract prospective students.
8. What happens after challenge completion?
This differs from challenge to challenge. Usually, you will receive a certificate of completion. Depending on the challenge format and agreed upon conditions with academic staff, the business partner might take up the most innovative solution(s) for implementation and continue to work with you to translate your idea into reality. Some companies might offer to buy your idea.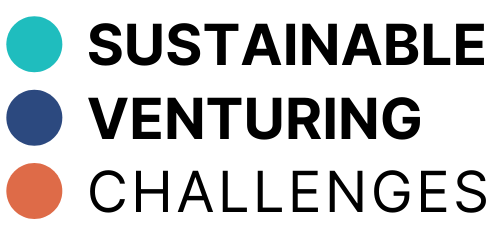 powered by ScaleUp4Sustainability
Carl von Ossietzky University of Oldenburg
Department of Business Administration, Economics and Law
Adj. Prof. Innovation Management and Sustainability
Ammerländer Heerstr. 114-118, 26129 Oldenburg, Germany
Legal notice and data protection

The platform was created as part of the ScaleUp4Sustainability project. ScaleUp4Sustainability (Project Reference: 601150-EPP-1-2018-1-DE-EPPKA2-KA) is funded by the Erasmus+/Knowledge Alliance Programme of the European Union.